jeux
panorama
outils
jeux de plateau
le go
packages
on peut jouer sous X avec 2 packages : cgoban (X) qui appelle le moteur gnugo (texte)
configuration
Start CGoban. When the CGoban Control panel comes up, select ``Go Modem''. You will get the Go Modem Protocol Setup. Choose one (or
both) of the players to be ``Program,'' and fill out the box with the path to gnugo. After clicking OK, you get the Game Setup window.
Choose ``Rules Set'' to be Japanese (otherwise handicaps won't work).
Set the board size and handicap if you want. Click OK and you are ready to go.

---
stratégie
clone de panzer general clone de battle isle
---
version 0.6 du 24/05/2006
Eric Gerbier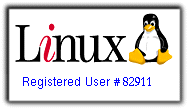 documentation sous licence GNU Free Documentation License